Made in ILVA - The Contemporary Hermit
Instabili Vaganti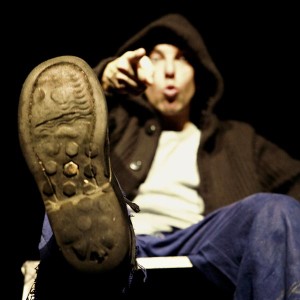 Please select a performance and hit 'Book Tickets':
An international multi-award winning masterpiece of physical theatre, an innovative example of "contemporary bio-mechanics", an emotional and poetic exploration of the condition of alienation and oppression of a human body reduced to an artificial machine. Inspired by the ILVA steelworks scandal and the witnesses of the Italian steelworkers, the performance is a perfect combination of extreme physical actions, sounds that become obsessive rhythms, original music, live voice and video projections. A critic to the impact of the factory on the environment expressed through the visual and physical theatre of this world touring ensemble.
Shortlisted for a TOTAL THEATRE AWARD 2014 in the PHYSICAL/VISUAL THEATRE category
"A performance of rare perfection"
Gazette of Parma
"A work of huge mastery… universal. "
Halland Posten - Göteborg
Reviews
TV Bomb - Read

The Flaneur - Read

The Times - Read

The Herald - Read

The Public Reviews - Read

The Student Newspaper - Read

Search

The Royal Dick

Sunday – Thursday: Noon until 11pm
Friday – Saturday: Noon until 1am
Food served from noon till 10pm everyday

Summerhall Cafe

Monday – Friday: 9am – 5pm
Saturday – Sunday: 9am – 6pm