The Furies
KILN (formerly Kindle Theatre)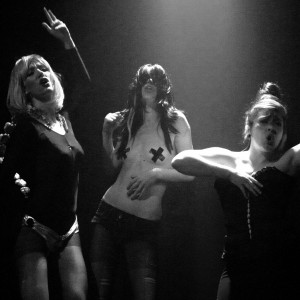 Note: Please note - as these shows start after midnight, the 8th August is for Thursday 7th night and similarly for the following night. Please ensure that the date you select is for the correct night.
Please select a performance and hit 'Book Tickets':
Glam rock meets Greek tragedy in this ultimate tale of female vengeance voiced by Clytemnestra's band of 'Furies'. Operatic laments of a woman wronged are spliced and smashed together with heavy metal rages from her aggressor and the haunting lullabies of his mistress. The Furies is part gig, part performance spectacle and is as loud as it is beautiful.
"Straight out of a Ken Russell hallucination ... there's a sense that anything could happen"
The Quietus
"They use their voices and bodies as weapons … they are a force of nature"
The Guardian