Dreaming of Heroic Days
Caroline McNairn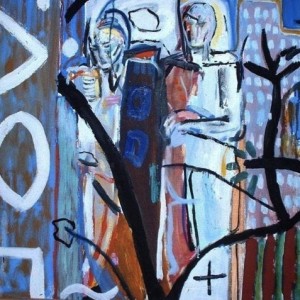 This exhibition celebrates Caroline McNairn's (1955-2010) year spent painting in Russia and Ukraine. This was the culmination of an historic cultural exchange between Scotland and the former USSR organised by Andrew Brown, director of Edinburgh's 369 Gallery and Baroness Smith, then chairman of the GB-USSR-Friendship Society. McNairn's painting was profoundly influenced by this cultural intercourse, describing her stay in Moscow as a love affair with the city and the resulting paintings, as the visual equivalent of love poems.
One of the paintings exhibited "In The Making" (now owned by the City Arts Centre), was exhibited in the ground-breaking exhibition of Scottish painting in Moscow in 1989. Many of the other paintings displayed reflect McNairn's time with "The Kievsky Station Group" in the USSR – paintings which are in McNairn's words "something beautiful for Russia". They portray memories of the eclectic Moscow skyline – onion domes and Stalinist skyscrapers fractured by time, distance, and the confusion of post-communist disorder. Smaller, more intimate pastels and oils capture the dreamlike evocation of Kiev's golden cathedral. This exhibition could not have come at a more appropriate time; for once again, as Russia and Ukraine step onto the World Stage, McNairn's paintings become increasingly relevant.
Presented by Beyond Borders Scotland and supported by Friends of Caroline McNairn.