Biding Time (Remix)
Tromolo Productions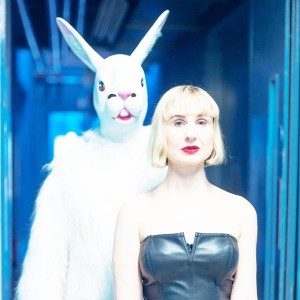 Note: Strong language & strobe lighting
Please select a performance and hit 'Book Tickets':
Musician Louise Quinn and Grid Iron's Co-Artistic Director Ben Harrison's immersive silent disco remix of aspiring singer-songwriter Thyme's journey through the fame-factory. Featuring film by Uisdean Murray, guest appearance by legendary performance artist Diane Torr and a giant white rabbit. Devised in response to Pippa Bailey's global shared story project Biding Time. The story of one woman's discovery of what is expected from a woman to succeed in the music industry…
Part of Made in Scotland showcase.
"A vital piece that's musically compelling throughout"
The Scotsman
"Thought-provoking, memorable and one-off stuff"
The Herald
Reviews
Search
The Royal Dick
Sunday – Thursday: Noon until 11pm
Friday – Saturday: Noon until 1am
Food served from noon till 10pm everyday
Summerhall Cafe
Monday – Friday: 9am – 5pm
Saturday – Sunday: 9am – 6pm