Charmolypi
Studio Matejka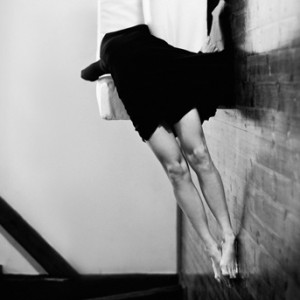 Please select a performance and hit 'Book Tickets':
Charmolypi is made of the performer's personal stories told through the body. Where words fail, the story of the body is born. It contains the missing pieces of yourself that can be used to pull yourself out of an existential crisis, out of the zero point of existence – to return to yourself, to life or death.
The performance is a sort of map charting the thoughts of a woman who struggles with the uncertainty of what is a dream and what is her failure to understand herself in the real world. The Greek word charmolypi encompasses the duality at the root of human experience. Loosely translated, it means "bittersweet" or "joyful sorrow". On a more earthly level, elderly people are often said to have charmolypi because of their accumulation of experience.
Actor Alexandra Kazazou is a member of Studio Matejka (physical theatre laboratory exploring techniques that cross the borders between genres and movement practices) in collaboration with the Grotowski Institute since 2010.
Director, Matej Matejka has performed at Edinburgh winning multiple awards: 2006 (Farm in the Cave); 2012 (Teatr Zar).
Produced and premièred at the Grotowski Institute, Poland; performed in Greece, Belgium, Russia, Turkey and USA.
"Charmolypi evokes a metaphysical reflection, expressed through the language of the body"
Dziennik Teatralny
"A very high class of acting"
Michail Pushkin, director of SOLO Festival in Moscow
"She is a fascinating performer, and the piece interesting, particularly the simplicity of the set: just a screen and white sofa, which she sensuously moves around and smears with red lipstick."
Lorna Irvine - Across The Arts
Search
The Royal Dick
Sunday – Thursday: Noon until 11pm
Friday – Saturday: Noon until 1am
Food served from noon till 10pm everyday
Summerhall Cafe
Monday – Friday: 9am – 5pm
Saturday – Sunday: 9am – 6pm