KlangHaus
Neutrinos / Norwich Arts Centre / Escalator East To Edinburgh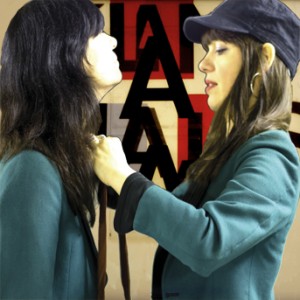 Note: Some moments of complete black-out.
Please select a performance and hit 'Book Tickets':
KlangHaus is a 360° visceral, enveloping experience challenging conventions of the live gig. An enigmatic salon saturated in sound and souls, soaked in layers of shifting colour, live music, projections: disorientating imagery altering observers' perceptions. Very quiet, very loud – the show blends electronica, experimental-rock, improvisation, animation, shadow montage, illusion and narrative. Noise-art collaborators The Neutrinos and Sal Pittman put the vision and the breath back into listening.
There will be a relaxed performance of Klanghaus on the 5th & 12th August at midday.
'Throbbing art-punk noise and sexy urgent energy' TimeOut New York
"Manipulative leaders, mentors, lovers and losers populate the Neutrinos world of song"
Village Voice NYC
'The ultimate medicine for the creative block' Iain Forsyth and Jane Pollard Directors of 20,000 Days on Earth.
'A Neutrinos show will leave you dazed, shocked, maybe scared, but certainly thrilled' World of Gigs USA
Reviews
Broadway Baby - Read

Fest - Read

The List - Read

The Guardian - Read

Search

The Royal Dick

Sunday – Thursday: Noon until 11pm
Friday – Saturday: Noon until 1am
Food served from noon till 10pm everyday

Summerhall Cafe

Monday – Friday: 9am – 5pm
Saturday – Sunday: 9am – 6pm