Nothing
Barrel Organ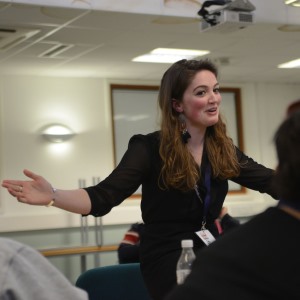 Please select a performance and hit 'Book Tickets':
"Nothing ever happens to me, ever. I'd go further than that. I'd say nothing has ever happened to me. I can't tell you anything significant that has ever happened to me."
Join us in an exploration of nothing; from stalkers to cupcakes, pooing to daydreaming, as we ask what constitutes nothing? And what constitutes something?
Nothing has been described by The Sunday Times as "raw and disturbing" and was the winner of four awards at this year's National Student Drama Festival, including the Sunday Times Young Playwriting Award and the Buzz Goodbody Student Director's Award.
"Raw and disturbing"
The Sunday Times
"Nothing announces a serious new talent to British theatre... a clear literary successor to Simon Stephens, Sarah Kane and Chris Thorpe"
Andrew Haydon
"An unblinkingly bleak vision of contemporary Britain"
Catherine Love
"A kind of postmodern Quaker meeting"
Billy Barrett
"An absolutely captivating piece of theatre."
Broadway Baby
Search
The Royal Dick
Sunday – Thursday: Noon until 11pm
Friday – Saturday: Noon until 1am
Food served from noon till 10pm everyday
Summerhall Cafe
Monday – Friday: 9am – 5pm
Saturday – Sunday: 9am – 6pm