Out of Water
Helen Paris and Caroline Wright / Escalator East to Edinburgh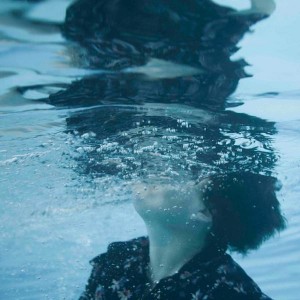 Note: Late night performance - Note that, for the purposes of performance listings, each day begins at 07:00. For example, a performance listed online and in the programme as '06:30 Thursday' will refer to a performance starting in the early hours of Friday morning.
Please select a performance and hit 'Book Tickets':
The singers are out of breath.The swimmers are out of their depth.
At sunrise and sunset, for three days only, a captivating spectacle will emerge on Edinburgh's beach. Singers and swimmers strike out towards the water's edge looking out intently, searching the horizon. Is somebody lost at sea?
Wearing headsets that transmit a heart-stirring soundscore by BAFTA-winning composer Jocelyn Pook, audiences are gently tugged towards the shore where the sight of toiling singers and swimmers unfolds before them. Featuring a live performance from chart-topping soprano Laura Wright and forty local Portobello residents, Out of Water reveals stories of endeavor, lifeguard drills, calls for help and struggles for breath. It promises to be an astonishing moment within some of Edinburgh's most stunning scenery.
Out of Water is part of Escalator East to Edinburgh and Summerhall programmes.
PLEASE NOTE:
Leaving from Summerhall:
There is a coach that will leave from Summerhall half an hour before the start time of the performance. Ticket price includes transport to Portobello Beach.
Please call or email Summerhall Box Office to book your place on the coach – 0131 560 1581 / boxoffice@summerhall.co.uk
Transport from Portobello Beach not included but assistance will be provided on how best to get to where you need to go. The local bus costs £1.50.
Portobello Meeting Point:
If you are not travelling by Summerhall coach, please meet at the Joppa Bandstand at the South End of Portobello Beach at least 10 minutes prior to the start time of the performance.
Access Requirements:
If you have any special access requirements, please contact Summerhall Box Office – 0131 560 1581 / boxoffice@summerhall.co.uk
Search
The Royal Dick
Sunday – Thursday: Noon until 11pm
Friday – Saturday: Noon until 1am
Food served from noon till 10pm everyday
Summerhall Cafe
Monday – Friday: 9am – 5pm
Saturday – Sunday: 9am – 6pm