Sirens
Ontroerend Goed, Drum-Plymouth, Vooruit, Richard Jordan, Big in Belgium, Summerhall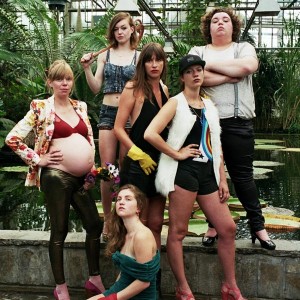 Note: Recommended for audiences aged 18+. Contains very strong sexual imagery and language.
Please select a performance and hit 'Book Tickets':
We are the weaker sex. We're goddesses, muses, amazons and warrior queens. We can't control our feelings. We bleed once a month, because we deserve it. We cry, sulk and suffer inexplicable mood swings. We're little princesses. We need a man. We all have oversensitive antennae and they hurt. We are either whores or saints, reading signs in everything. We like to provoke but we don't fully understand the impact. We're good liars, use our bodies to get on in life, argue that it's impossible to understand if you're not a woman. We're sirens. And the stage is ours.
Reviews
The Guardian - Read

What's On Stage - Read

Fest - Read

TV Bomb - Read

The Metro - Read

Search

The Royal Dick

Sunday – Thursday: Noon until 11pm
Friday – Saturday: Noon until 1am
Food served from noon till 10pm everyday

Summerhall Cafe

Monday – Friday: 9am – 5pm
Saturday – Sunday: 9am – 6pm