Sister
Amy and Rosana Cade in association with The Arches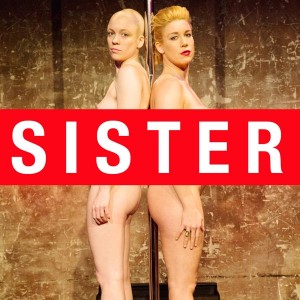 Note: Full nudity throughout. This performance will be filmed on the 1st & 2nd August.
Please select a performance and hit 'Book Tickets':
Sister, in association with The Arches. Amy is a sex worker. Her sister, Rosana, is a shaven-headed lesbian. They are both feminists. In Sister they present a bold and unflinching examination of themselves: their family bonds, shared experiences, and the differing paths their lives have taken. Sister is a powerful and joyous performance exploring feminism and choice.
Previously presented at Behaviour 2014, supported by National Theatre Studio, Battersea Arts Centre and The Yard.
Part of Made in Scotland showcase.
"Strange, beautiful, disturbing"
The Scotsman
"Robust humour and unflinching integrity.... leaves you caught between laughter and tears"
The Herald
Reviews
Broadway Baby - Read

The List - Read

Search

The Royal Dick

Sunday – Thursday: Noon until 11pm
Friday – Saturday: Noon until 1am
Food served from noon till 10pm everyday

Summerhall Cafe

Monday – Friday: 9am – 5pm
Saturday – Sunday: 9am – 6pm