Snoutology for Beginners
Hijinx Theatre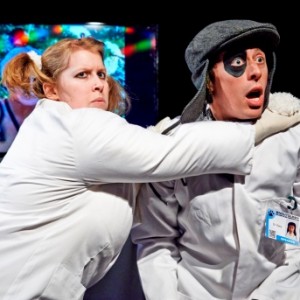 Please select a performance and hit 'Book Tickets':
'In today's seminar we will be studying Snoutology. That's the ology of Snout, in case you're wondering. Or for the less intuitive amongst you, how to use your snout more effectively.'
Join Professor White Fang and Dr Gary, both accomplished dogs in their own right, in their acclaimed training seminar for humans who have 'lost their senses'. Snoutology for Beginners is a raucous theatre show performed by one actor with a learning disability and one without. With quirky animation, audience participation and groundbreaking 4D technology, this is bonkers observational comedy of the canine kind. Class dismissed!
Audience members will be provided with a complimentary drink with the performance.
"f you want small-scale perfection try Hijinx Theatre...little masterpieces, miniatures where every aspect of the product is finely crafted."
The Guardian
"Clever, funny and imaginative"
British Theatre Guide
"Brilliantly bonkers. The most fun I've had in a theatre for years"
Neil Reading, Arena Theatre, Wolverhampton
Search
The Royal Dick
Sunday – Thursday: Noon until 11pm
Friday – Saturday: Noon until 1am
Food served from noon till 10pm everyday
Summerhall Cafe
Monday – Friday: 9am – 5pm
Saturday – Sunday: 9am – 6pm