Tales from the MP3
20 Stories High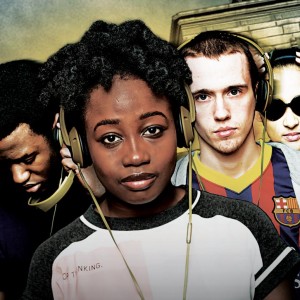 Note: Contains a reference to a racist insult. This racism is challenged during the show.
Please select a performance and hit 'Book Tickets':
Young People from award-winning 20 Stories High tell each other's true stories straight from their MP3 players. As they hear the words in headphones, the performers deliver line for line to the audience what they are hearing – live. Verbatim with a twist, and delivered with unflinching honesty, they discuss religion, sex, race, friendship and family. Boys and girls play each other and cultural identity is swapped, revealing challenging and insightful perspectives. With live music, poetry and beatboxing, this is a unique new play from one of the UK's top theatre companies for young adult audiences.
Search
The Royal Dick
Sunday – Thursday: Noon until 11pm
Friday – Saturday: Noon until 1am
Food served from noon till 10pm everyday
Summerhall Cafe
Monday – Friday: 9am – 5pm
Saturday – Sunday: 9am – 6pm