The Eradication of Schizophrenia in Western Lapland
Ridiculusmus / Jon Haynes, Patrizia Paolini, Richard Talbot, David Woods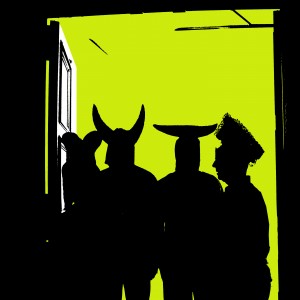 Note: Includes descriptions, performed experiences and discussion of early onset psychoses and schizophrenia. Four performers, audience is split either side of a central divide, swap to see other half in brief interval.
Please select a performance and hit 'Book Tickets':
A dual family drama about recovery from schizophrenia. It simultaneously stages the first psychotic episodes of a mother and son as they navigate stress and change with fantastical results involving Finnish folk, Margaret Drabble, Adolf Hitler and the knitted cover for a toilet roll. Their two interconnected stories are performed to separate but adjoining auditoria in the same theatre space, audible but unseen to each other. At half time they switch seats and the action is replayed, mapping a pathway to recovery through dialogical understanding of their situation.
Reviews
Three weeks - Read

Edinburgh Evening News - Read

Time Out - Read

Broadway Baby - Read

The Public Reviews - Read

Search

The Royal Dick

Sunday – Thursday: Noon until 11pm
Friday – Saturday: Noon until 1am
Food served from noon till 10pm everyday

Summerhall Cafe

Monday – Friday: 9am – 5pm
Saturday – Sunday: 9am – 6pm